Nostalgia! Glamour! Romance!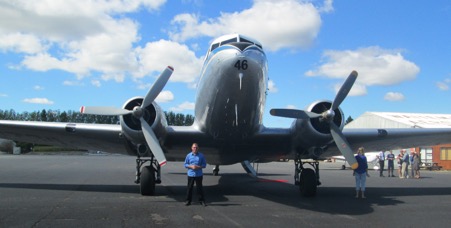 If you are looking for a
'new'
way to experience New Zealand – this could be a fun idea… Twelve gentle-paced days touring the North and South Islands in a classic, meticulously maintained DC3 airliner operated by 'Fly DC3 New Zealand'.
Step back a little to a time when you dressed up to go out and you didn't have to lock the door behind you. Now you can re-live this gentler era with a leisurely paced, lower altitude air tour in a DC3 airliner that was an iconic part of those sociable times. …
Enjoy a tour that combines nostalgic flights through New Zealand with the comforts of modern hotels and sightseeing coaches for an exclusive touring adventure like no other… A touring adventure that offers breath taking natural wonders, enthralling landscapes, wide-ranging experiences and fun encounters that will enrich your appreciation for our remarkable country.
The DC3 is a great way to see New Zealand – a classic design that revolutionised air travel in the years leading up to WW2 and beyond. This immortal aircraft featured the very best design elements of her day and is often regarded as the most significant – and robust – transport aircraft ever made. She flies comfortably at a sedate speed and a lower altitude and that makes her an ideal 'platform' for air touring and aerial sightseeing.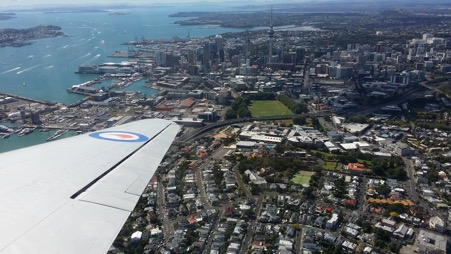 Sunday morning over Auckland from the window of the DC3
A familiar sight in Auckland skies on Sunday mornings, the mellow rumble of ZK-DAK's two Pratt & Whitney engines draw eyes skywards as the DC3 hosts and entertains passengers on frequent sightseeing flights and at air shows throughout New Zealand.
Inside ZK-DAK you will find a pleasant, commercially styled cabin with two seats either side of the single aisle. The seats were originally from a Boeing 767 airliner and include standard airline seat belts. There are no overhead lockers so cabin bags are stored in a luggage hold up front. Generous square shaped windows offer good aerial photo opportunities and outside viewing.
| | |
| --- | --- |
| | |
| Professional, highly experienced flight crew | The pleasant, commercially styled DC3 cabin |
Your Air Tour adventure will see you flying each morning for an hour or so (sometimes less, sometimes a little more). Those morning flights are a big advantage – eliminating long hours on a tour coach between destinations. And flying 'low and slow' gives you a great perspective on New Zealand's compact and ever changing landscapes… rolling farmland, pretty coastlines, beautiful beaches and harbours, braided rivers, exquisite lakes, majestic mountains and glaciers, colourful plains and exciting geothermal regions are all part of your air tour route.
| | |
| --- | --- |
| | |
| Flying 'low and slow' gives you a great perspective | Plymouth International Hotel; 4-star style |
And with less daily travelling time there is more time to see what each destination has to offer – and more time to relax when you get there. On arrival at each destination there will be a tour coach to meet you at the airport for some local 'ground-based' sightseeing before the transfer to your hotel and a chance to do the things that you want to do…
The tour departures have been timed to take advantage of the usually settled summertime weather conditions however there is always the possibility of inclement weather at some point. If poor weather occurs and flying is not safe or comfortable on a particular day, the itinerary may be re-arranged or a luxury tour coach will complete that part of the route to keep the tour running to schedule.
A friendly, experienced Tour Manager will accompany you to ensure everything runs to plan and to help you make the most of all the attractions, activities and points of interest along the way. Meanwhile a ground support crew will be there too; looking after the DC3 throughout your tour.
Breakfast and dinner are included each day and you can look forward to a very comfortable 4-star or 5-star hotel standard each evening (along with two '3-star plus' hotels that are the best on offer at their respective locations).
Two 2-night stopovers are a tour feature too – one stopover is lakefront in beautiful Queenstown…
| | |
| --- | --- |
| | |
| Two nights in beautiful Queenstown | Marlborough Sounds Wine and Mussel Cruise |
There is a lot to see and enjoy on this tour! For a start, there are two cruises – a Marlborough Sounds Wine and Mussel Cruise and a spectacular Milford Sound cruise.
| | |
| --- | --- |
| | |
| Milford Sound cruise. | Tranz Alpine train trip across the beautiful Southern Alps |
Add to that the amazing coast to coast Tranz Alpine train trip plus visits to aviation museums at Omaka, Wanaka and Ashburton, a winery visit, Napier's Art Deco scene and so, so much more.
And for something even more special, the April 12-day tour includes the exciting Easter Weekend Classic Fighters Air Show at Omaka near Blenheim. So book now! What are you waiting for?
| | |
| --- | --- |
| | |
| Grass runway in Ashburton… and the coach transfer couldn't be any closer to your DC3! | Flying at about 500 metres (1500 feet) along the pretty Kaikoura coastline |
| | |
| --- | --- |
| | |
| February and March itinerary tour route | April itinerary tour route |
There are only three 12-day tours in 2017 and 24 seats per tour. Be sure to book soon so you don't miss out on this exclusive opportunity…