The Experience Overall
New Zealand Beauty
New Zealand is no doubt one of the most beautiful countries in the world. The countryside seems to roll on over the horizon forever with spectacular views leading to the far-off blue skies and seas. Beaches and coastal areas whisper and invite you to stroll, swim, play and relax. The ocean calls you to discover the spectacular wildlife that lives in abundance in the New Zealand waters.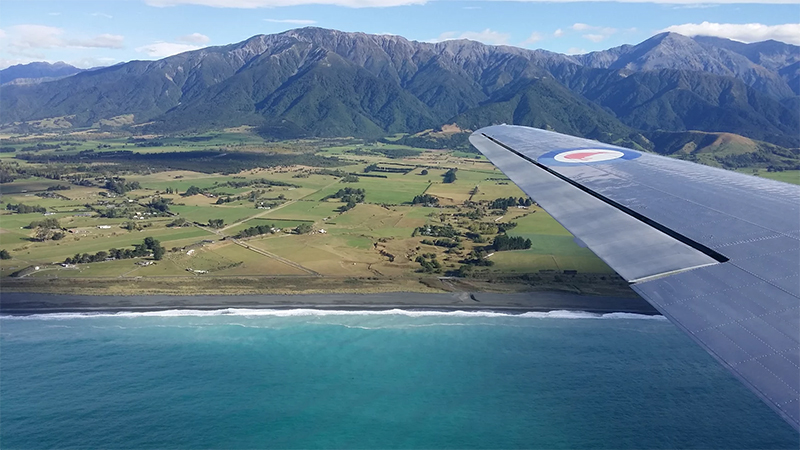 Exploring New Zealand
Discovering New Zealand by land or by sea has always been the traditional method of exploration. Now, however, there is a different way, a better way. A unique experience awaits as you take to the air on a classic DC3 airliner and discover NZ, her attractions and her beauty via a "low and slow" flight, taking in some spectacular aerial views and visiting some amazing destinations along the way. The DC3 has been rebuilt and refurbished to exacting standards to ensure guests enjoy a safe and unique touring experience of the New Zealand coastline and countryside.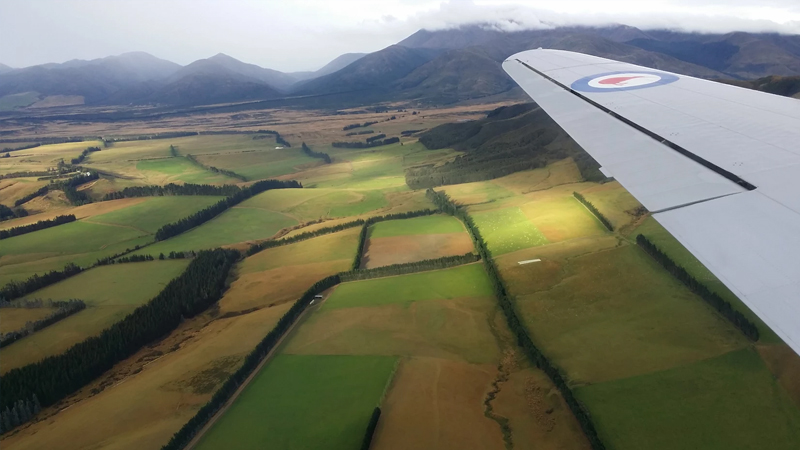 The Ultimate NZ Tour
The air tour concept is simple yet unique. Take a classic DC3 airliner, restored and maintained to the highest standards, fit comfortable seats from a Boeing 767 and visit New Zealand's favourite tourist destinations and scenery in the best way possible. The small air tour groups of 24-26 people may well share an interest in the classic DC3 aircraft and her fascinating history. However for others the DC3 is simply a great way to do something different and see NZ in style from above. Past experience tells us that many people who have shared a DC3 NZ air tour have become good friends afterwards. This is an exclusive touring experience and we are confident that guests will recall the fun and adventures for many years to come.
Low altitude cruising allows for spectacular views flying from one destination to the next, each carefully chosen to add value and interest to the tour. Information about the places we visit is unobtrusive but always available, both on the plane and on the tour coaches en route to the points of interest we visit. Each overnight stay will be in a 4 or 5-star hotel where you can relax, reflect on the day just gone, socialise and anticipate the day to come.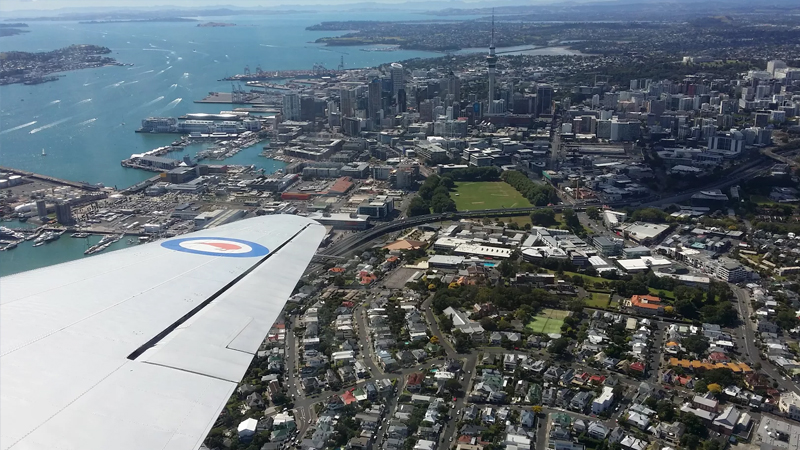 Some experiences are unique to our Pacific Trailways DC3 Air Tour such as:
Whale watching from the DC3 along the Kaikoura Coast
Landing and taking off from grass runways
Cruising along spectacular coastlines at a lower altitude to see parts of New Zealand you will not see in any other way!
Operating from quaint small airfields
Having transfer coaches drive right up beside the DC3 aircraft at some smaller airfields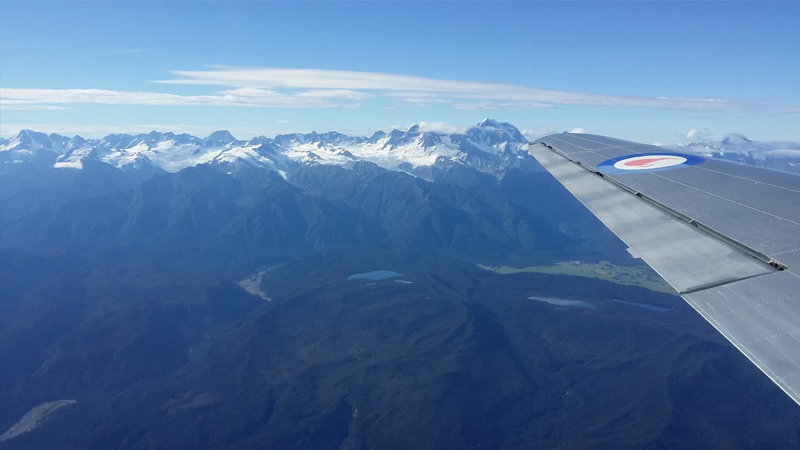 The air tours will certainly appeal to those with an interest in the DC3 aircraft and its history but the tours are designed to provide wider general interest as well. Tour guests from all walks of life are well catered for. While it is not all the DC3, by the end of the journey you may well fall in love with her as much as we have.
Unique DC3 Air Tour Experience
The DC3 air tours are operated by Pacific Trailways in conjunction with Fly DC3 NZ. The air tours depart from the DC3 terminal at Ardmore Airport in Auckland. Your crew for the tour consists of a tour director, two very experienced pilots and a flight attendant to look after an average of 24-26 guests.
Enjoy Your Flight
The tour 'atmosphere' is convivial and fun, but behind the scenes the crew and tour director work hard to maintain a high level of professionalism, customer care and service. We aim to deliver the best possible touring experience and hope you will take home some long lasting memories of New Zealand, her history, her people and her beauty.
For more information on any of our DC3 Air Tours of New Zealand please contact us.