The plane and the history.
The Fabulous Douglas DC3
Modern aircraft are very safe, efficient and economical and carry passengers all over the globe. The classic DC3 can claim to be all of the above, but boasts more charm, character and history than virtually any other airliner ever built. The sound of the powerful radial engines alone is enough to bring about imaginations of days gone by when times were not always simpler, but they sure sounded good.
Developed in the United States, the Douglas DC3 had a speed and range that revolutionised air transport in the 1930s and 1940s. DC3s played a key role during World War 2 and have had a lasting impact on the airline industry. A total of 16,079 DC3s were produced, and today more than 400 are still in commercial service around the world. The DC3 airliner revolutionised air travel with a strong and innovative design that featured the very best performance elements of the period. It's enduring character and robust reputation was established in wartime and sealed in faithful airline service that extended into the 1960's and beyond. Today, the DC3's gracious charm, sedate speed and lower altitude cruising make it an ideal choice for scenic flightseeing and comfortable air touring.
Auckland's Very Own DC3
The extensively restored air tour DC3, meticulously maintained and operated by Fly DC3 NZ, is one of only a few in the world to hold a full, current 'Airline Operating Certificate' (AOC). 'ZK-DAK' operates on sightseeing flights, special interest and corporate flights and in regular air show displays. A familiar sight in Auckland skies, her distinctive Pratt & Whitney engines always draw admiring eyes skywards.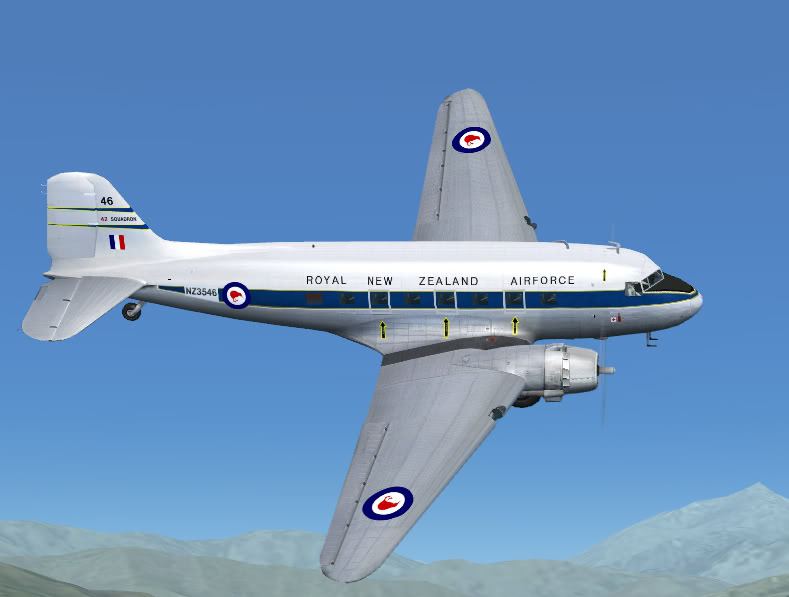 DC3 For New Zealand Touring
Built in 1944 as a C-47B by the Douglas Aircraft Company (in Oklahoma City) her initial service was in the continental United States. Conversion to a C-47D in 1946 was followed by service in Japan, the Philippines, Hong Kong, New Guinea and Australia.

In 1987 she was purchased by a group of New Zealand pilots and Warbird members and brought to New Zealand for an extensive rebuild. Inside ZK-DAK today you will find a pleasant, commercially styled cabin with two seats either side of the single aisle. The seats were sourced from a Boeing 767 and include standard airline seat belts. Generous square shaped windows offer pleasant outside viewing and photo opportunities.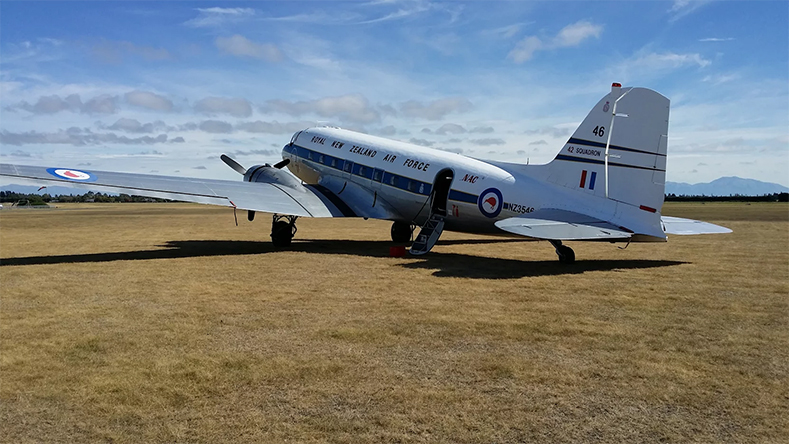 Touring In Style
Ideal for landing at smaller, secondary airfields, some with grass runways, the DC3 frequently brings tour guests right to their destination. Arriving in classic DC3 style often draws a crowd so there is sometimes a little of the rock star experience upon landing as curious bystanders look to see who could possibly be arriving on such an elegant aircraft.
For details on booking a tour on the DC3 and experiencing New Zealand like never before please contact us
.