What does the NZ experience offer that is different?
Touring NZ with a bird's-eye view
New Zealand's ever-changing landscapes are ideal for air touring by DC3. It is often said that New Zealand is "the world in one compact country" and that is certainly true. From stunning coastal scenery to soaring mountain peaks, pleasant green farmland to unique native forests, volcanic features, glaciers, fiords and deep picturesque lakes, New Zealand offers air tour passengers a visual experience that cannot be replicated using any other form of transport
NZ Nature As It Should Be
New Zealand is home to about 4.5 million people and around a third of them live in Auckland. The balance are scattered around the two main islands and the whole country has an area about two thirds the size of California. Large uninhabited areas have flourished under nature's management, with a little help from the Department of Conservation of course.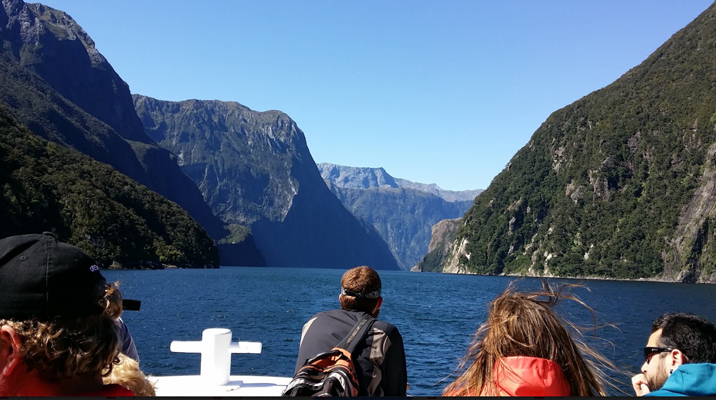 Extensive national parks and a light industrial footprint have gifted New Zealand amazing woodlands that grow as nature intended. In other picturesque areas, rolling green countryside is home to New Zealand's famous sheep. Stunning beaches frame New Zealand's beautiful South Pacific coastline and an array of sea life, dolphins and whales are often near the coast - close enough for those fabulous photo opportunities.
Escaping the daily grind of life and enjoying nature as it was intended is surely one of the most invigorating yet restful of leisure activities. And a tour of New Zealand will offer nature at her glorious and relaxing best.
A haven for Trampers
Hiking or "tramping" is a favourite pastime of New Zealanders. No dangerous snakes, big cats or bears mean you can relax and enjoy the view, the fresh air and the exercise. There is always the option to customise your DC3 air tour should you wish to add a hike, bike or kayak experience to your already incredible New Zealand tour.
Some of the best places in the world to hike are right here. Options include:
Franz Josef Glacier,
Milford Sound,
Tongariro National Park,
Routeburn Track,
Fiordland National Park.
Contact us for custom air tour information.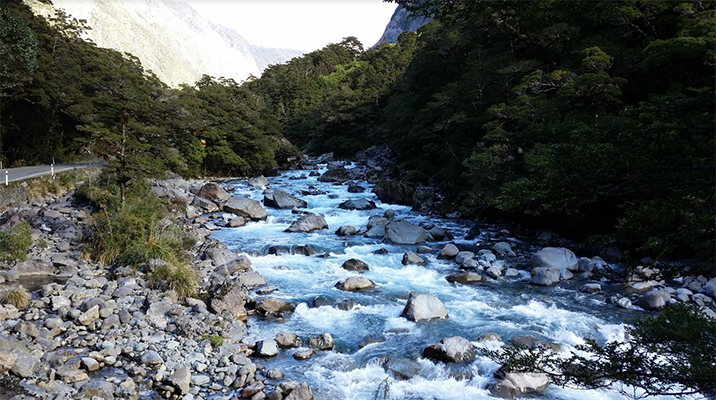 New Zealand Aerial Photography
New Zealand is a photographer's dream, and even better from the air.
The DC3 will often be flying at only 1500 to 3000 feet (around 500 to 1000 metres) and about 140 knots (280 kilometres per hour). This 'low and slow' characteristic is the big advantage of the air tour experience as it offers a unique perspective on the New Zealand landscape. Take a moment to view the photos on our website to see how spectacular New Zealand is from above. The air tour offers breathtaking views that photographers simply cannot capture in any other way. And all of this from the comfort of the classic DC3 aircraft and with the expert knowledge of the accompanying tour guides to deliver you a truly remarkable experience. This is something to share for years to come.
The DC3 Tour Experience
Some experiences are unique to our Pacific Trailways DC3 Air Tour:
-
Whale watching from a DC3 along the Kaikoura Coast
-
Landing and taking off from grass runways
-
Operating from quaint small airfields
-
Transfer coaches driving right up beside the DC3 aircraft at some smaller airfields
-
Cruising along spectacular coastlines at lower altitude, to see parts of NZ you will not see in any other way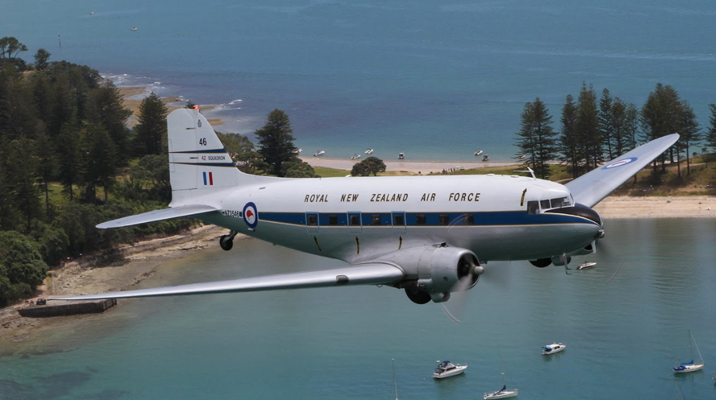 This is just a small idea of all there is for you to enjoy. There are many aspects of the tours that will leave you wanting to book your next air tour before you leave for home. The expert knowledge, the small group experience, the nostalgic flights and the incredible scenery, wildlife, history, and culture of our great country are only a few of the many reasons your DC3 New Zealand Air Tour will be truly memorable. It's all here for you!